Shadows Part 7
---
Augusta walked into Jeffrey's boutique wearily after a long day at the training her school had sponsored.
"So these ones are thirty thousand." She said her husband saying.
"Let me pay twenty five now." A stout woman said.
"No, I have even tried for you."
"Okay." The customer said grudgingly.
"Good afternoon." Augusta greeted weakly.
"Welcome." Jeffrey said, the customer didn't acknowledge her.
"So when did you say you will pay the balance?"
"Ah ah, am I running away? Why are you harassing me? Am I not your regular customer?"
"Don't be annoyed. You know the market is always changing so I have to have money everytime."
"Maybe the weekend."
Jeffrey wasn't happy with the response but he didn't want to offend his customer, she was a regular customer. He sighed and sat down at his desk while she counted out some money. Augusta kept looking back and forth at her husband and the customer, unsure of what exactly was happening but uncomfortable with what she was hearing. Jeffery counted the money the customer handed to him while an attendant packed the purchase.
"Okay."
"So the balance is twenty thousand?"
"No o! I said twenty eight thousand."
"Ehn? I can't pay that! If I knew that's what you said I would have dropped the goods."
"Customer, I'm not cheating you. In fact my gain on these goods is small. I have tried for you o."
"I will pay twenty two thousand."
Augusta almost lost her patience.
"No I can't take it." Jeffrey shook his head.
"Okay let me add one thousand."
Jeffrey sighed, already tired of the haggle he said: "Okay. Pay twenty three thousand."
Augusta opened her eyes in shock but held her peace. As soon as the customer was gone she faced her husband.
"Jeffrey! Is this how you've been doing business? That woman will not pay you and you will get into debt."
"Augusta please!" Jeffrey snapped. He had just dealt with a tiring customer, he couldn't deal with his wife's nagging just yet.
"Okay o." she said quietly and folded her arms.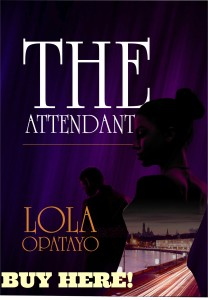 **********
Kayinsola was cooking dinner when her phone beeped. It was another text from T.J.
The sooner you talk to me the better. I want my son.
Kayinsola hissed disgustedly and decided to reply him for the first time.
You're delusional. I didn't bear you any children.
She thought again about changing her sim but realized that it would raise suspicion with Rotimi who hadn't handled their last conversation about T.J well. She couldn't tell him that she was just changing her sim, he would be suspicious and she couldn't dare tell him the truth. She heard her husband coming towards the kitchen and she quickly deleted the text history between her and T.J.
"Baby, how much longer o? I'm famished." Rotimi said holding their son.
"Sorry dear, just a few minutes. I'm trying to make some coleslaw."
"Okay." He sighed and kissed Damola's forehead. "He's asleep."
"You have the magic! It's almost as if he's always just waiting for you to carry him."
Rotimi laughed and took her phone.
"What's up?"
"I'm bored," he swiped on her phone. "Do you have new videos?"
"Yeah, check my videos."
"Okay."
Kayinsola was very grateful she had deleted the texts. It would have been a long night.
**********
T.J. wouldn't leave Kayinsola alone. The next day at lunch he slipped into the chair in front of her and smiled fiercely. Full of anger and frustration, she snapped.
"What are you doing here? How did you know I was here?"
"I always know where you are Kayin baby." His lips stretched into a thin smile.
"Stop calling me that you psycho! Wait… are you stalking me? Because there's no way you could have known where I was if you haven't been stalking me. You have a serious problem you know that? You need help, you should be locked up in a mental facility…"
T.J suddenly grabbed her hand and squeezed it hard. "You think you can talk to me anyhow Kayinsola? Have you forgotten who I am? Your church boy is making you confident abi? Who's delusional hmmn?" he squeezed her hand harder.
Kayinsola winced. "You need to get a life T.J. If you had one I doubt that you'll be chasing your ex-girlfriend…"
"I don't need you anymore, I want my child."
In spite of herself Kayinsola laughed. "What child? You never wanted a child T.J, you've always never been able to think of anyone but yourself." She snatched her hand away. "I never bore you any child T.J, you and I have no more business together. Now I'm going to stand up from here and I really never want to see you again. The next time you show up in my environment, you will be sorry for yourself."
She got up from her seat and grabbed her bag.
"Damola looks exactly like me." T.J said smiling.
Kayinsola laughed. "Your brain is really fried."
"This isn't over Kayinsola." T.J said as she walked out.
**********
Titi walked out of the supermarket munching on chocolate cookies. It had been a fruitful day and she was in a light mood. Just as she was about to climb the stairs to the car park, her eyes caught a pair of shoes she thought would look really good on Leke.
She walked into the store and took a better look at the shoes.
"It's a very nice." An attendant said.
"How much is it?"
"Twenty five thousand."
"Okay, your prices are not bad. So where do I pay?"
"Over there ma."
Augusta was sitting down in a chair beside the new stock. "Good afternoon."
"Good afternoon ma." Titi said with a smile.
"The shoes are nice."
"Thank you." Titi said looking at the shoes. "You know we have to support these men anyway we can. If he's not looking good people will ask who his wife is." She laughed.
"Your husband must be lucky." Augusta said with a smile.
"I'm actually not married yet. We're getting married soon."
"Oh congrats in advance. Are we not invited?" she teased.
"That's actually not a bad idea." She looked around. "Can one of your guys follow me to the car so I can give you the IV?"
"I was only joking o!" Augusta said with a surprised smile.
"I know, but I just like you and I would be glad to see you there."
"Thank you!" she said with a smile. "Ben!" she said to the nearest attendant. "Oya follow her."
Augusta sat down and thought about what Titi had said about supporting her husband and realized that she had been more critical than supportive of her husband. She smiled, the lady had been so nice and she liked her too.
**********
This night the dream was different. The eyes were bigger and angrier, they chased him down an isolated street.
"Help! Help! Help!" Rotimi screamed running as fast as he could.
"You good for nothing boy!" the eyes said, continuing to chase him.
"Please! Please!"
Rotimi suddenly felt his body shake.
"Rotimi! Rotimi!"
He woke up to see Kayinsola looking over him.
"Wake up, it's just a dream!"
Sitting up and panting he leaned back against the bedrest. This had to stop.
"What's going on Rotimi?"
For once he was tempted to tell someone what his dreams were about. "Nothing, just a bad dream."
Kayinsola looked at him sadly, how could she expect him to come clean with her about his dream when she couldn't even tell him her? She had seen T.J in her dreams, holding Damola and laughing hysterically.